Transformational Teaching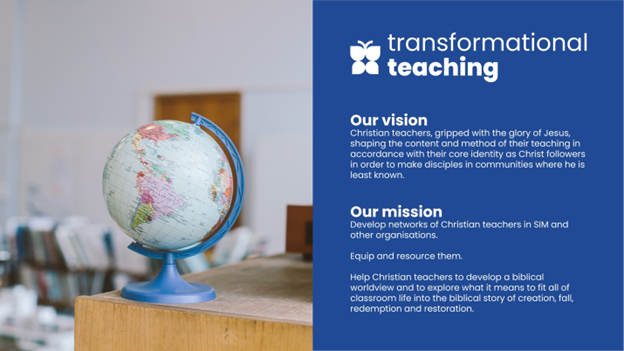 Classrooms are communities from which God is largely banished, not only by secular teachers, but also by Christian ones. Helping teachers to live consciously in the biblical story in the classroom is vital to making disciples in communities where he is least known.
How does it work?
Christian teachers, gripped with the glory of Jesus, are inspired to become eager to honour Him in every aspect of classroom life. They shape the content and method of their teaching in accordance with their core identity as Christ followers. This is possible even in the most sensitive environments and it means that communities where He is least known have the opportunity to meet the Saviour.
In community with other Christian teachers, they can develop a biblical worldview and help each other to see their students, the content and method of their teaching and their school environment through the lens of the Bible.
Together they inspire each other to teach with hearts beating in tune with God's heart and with an eye to the restoration of all things under the rule of King Jesus. By the enabling of the Holy Spirit the teaching of maths or spelling can have a transformational impact in the lives of millions of children around the globe.
Where does the transformation take place?
• The teacher is transformed as she learns to see God revealing Himself through the school subjects.
• The classroom is transformed as the Holy Spirit enables the teaching and learning.
• The children are transformed as they are nurtured by their compassionate teacher.
• Their families are transformed as the message of God's love reaches them too.
• Societies are transformed as a new generation of the King's ambassadors live counter-culturally.
Transformational Teaching will occur more widely as we work in the following three areas:
1. Developing networks of Christian teachers in SIM and other organisations
2. Offering practical help, equipping and resourcing Christian teachers
3. Encouraging Christian teachers to develop a biblical worldview
Our vision and plan is to have workers in each of these three areas liaising with each other to advance God's kingdom through Transformational Teaching.
Get in touch
Please address all enquiries to Megan Patterson MPP for Transformational Teaching at intl.transformational-teaching@sim.org
Resources
• What are the implications of AI for education? How do I respond faithfully? - Read Dr Richard Edlins's helpful paper: https://www.allofliferedeemed.co.uk/RJE2023ChatGPT.pdf
• Have you watched the series of 9 short videos for teachers here : https://www.sim.org/transformational-teaching
• Read Megan's latest blog https://cve-scotland.org.uk/against-the-tide/
Pray with us
Join the Transformational Teaching online prayer meeting at 12 noon UTC on the first Tuesday of every month.
Email megan.patterson@sim.org for the link.
​​​​​​​You can also use the prayer points below to pray independently.
Come and Serve
Network development leader
Prayers
1
That all Christian teachers will understand the key role they have in training the next generation's agents of kingdom transformation
1
That all Christian teachers will understand the key role they have in training the next generation's agents of kingdom transformation
2
For teachers you know personally, for their personal transformation as they walk with Jesus
2
For teachers you know personally, for their personal transformation as they walk with Jesus
3
That Christian teachers will honour Jesus in their classrooms today whether or not they are allowed to mention His name
3
That Christian teachers will honour Jesus in their classrooms today whether or not they are allowed to mention His name
4
For the transforming light of the gospel to shine into the homes and communities from which the students come
4
For the transforming light of the gospel to shine into the homes and communities from which the students come
5
For the Holy Spirit to be at work in teacher training seminars and workshops taking place
5
For the Holy Spirit to be at work in teacher training seminars and workshops taking place
6
For current job vacancies to be filled, notably a Network development Leader and a Resources leader
6
For current job vacancies to be filled, notably a Network development Leader and a Resources leader
SIM Asset Publisher Portlet
SIM Asset Publisher Portlet
Other Ministries from this Country